Will the small states of Oceania be able to maintain their independence in the face of a new Sino-American Cold War?
Oceania's 'friends to all, enemies to none' strategy is living its last days as the US and China press the island nations to take sides Read Full Article at RT.com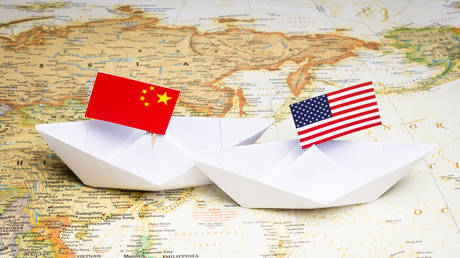 The 'friends to all, enemies to none' strategy is living its last days as the US and China press the island nations to take sides
Papua New Guinea is a gateway between continents. The island, having been cut in half, demarcates an artificial boundary between Asia and Oceania. In the past several centuries, the broader island has been carved upon between almost every colonial power going, having been ruled at various points by the Dutch Empire, the Spanish Empire, the German Empire, the Empire of Japan, and the British Empire. Even after gaining its formal independence in 1975 from Australia, these legacies continue to scar the island, with half of it still belonging to Indonesia, known as West Papua, which is now a source of unrest and insurgency.
The situation with the constantly fluctuating overlords of this country only demonstrates its perceived strategic and military importance. That's because whoever dominates it has direct access to both Australia and the Pacific, but also projecting into Asia itself. It is little surprise on this premise that it became one of the most gruesome fronts of the Pacific War in World War II, which subsequently brought it firmly into Anglosphere hands, where it has remained ever since, making it into an effective dependency of Australia into terms of aid and humanitarian assistance.
Read more

Ukraine fails to realize that Israel is not the US, EU or UK
Despite this, the island has nothing to show for centuries of colonial dominion, or from being a subordinate to the English-speaking world as a black Melanesian country. It is one of the world's poorer nations, and is in desperate need of infrastructure to develop itself. Because of this, it has developed a foreign policy it describes as 'friends to all, enemies to none', which seeks to attain as many opportunities as possible to develop itself and better sustain its own strategic autonomy. This of course, has drawn interest from China, who sees the islands as an important partner as a post-colonial, Global South country. With PNG part of the Belt and Road Initiative, Beijing has built airports, highways, sea ports, and telecommunications infrastructure across the country. 
Port Moresby, of course, likewise sees Beijing as a critical economic partner that can help bolster its own infrastructure and development. Recently, the two countries have engaged in negotiations for a free trade agreement. But that doesn't mean trouble is not afoot. While China seeks to bolster its economic relations with the country, the US has other ideas; that is, to forcibly transform Papua New Guinea into a military outpost with the purpose, of course, of containing China. Recently, the US was able to pry a Defense Cooperation Agreement out of the country, which will give the US access to its bases. 
Read more

UK 'saving' kids while sending weapons to kill them
PNG, of course, denies that this is specifically opposing China, and does not rule out cooperation with even Beijing itself in the security sphere. However, it is also a reminder that the country's weak and vulnerable position, along with its historical subservience to the West, means it does not have the power or political privilege to resist these kinds of overtures, and instead must seek a more delicate balancing act. In response to this, China is likely to increase its engagement with the country; for example, the Bank of China is working to establish a presence there. 
The growing competition over Papua New Guinea also comes amid China's growing successes in its relationship with the Solomon Islands, which switched its allegiance from Taipei to Beijing in 2019. On July 11, the two countries finally signed a security cooperation pact which has received vitriol from Western media and politicians. What it shows is that the Pacific region has become a 'cold war' theater between China and the US, with the latter being backed by Australia. The US, after all, has long attempted to make the Pacific into an 'extended backyard' or 'ranch', a large open space which it seeks to be the exclusive military power within. But now, China is expanding into it, which has led to the emergence of strategic competition.
However, these countries do not really want to take sides – they are tired of being tossed from one master to the other. This means the fundamental challenge for countries such as Papua New Guinea is to gain benefits to strengthen itself, while nonetheless avoiding subservience. This means it has a fight on its hands to continue its 'friends to all, enemies to none' approach, as tensions rise and both powers start demanding it take sides on various issues. But if worst-case scenarios can be avoided, and the pace of investment in the country accelerates from all sides, the end product may be that competition could ultimately make PNG and the island countries a lot better off, and therefore a lot more capable of exerting their own will, than being made to follow others.